2010 - Jere Humphreys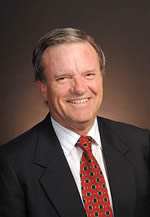 2010 - Jere Humphreys, professor of music at Arizona State University (ASU), is one of the most prolific scholars in his field with more than 140 publications and reprints in six languages. He is a Fulbright Senior Scholar (2002) and a Fulbright Senior Specialist (2010). He received the prestigious NAfME Senior Researcher Award from the National Association for Music Education (NAfME) (2006) and an NAfME Citation of Excellence in Research (1985).
He is the contributing editor for music education for the New Grove Dictionary of American Music (2nd ed.) and a section editor for the Oxford Handbook of Music Education, both forthcoming from Oxford University Press. He has served as editor of the Journal of Historical Research in Music Education and on the editorial committees of thirteen national and international journals. He has been a reviewer for the National Endowment for the Humanities and the Social Sciences and Humanities Research Council of Canada, a research team member for the European Union, and a consultant for the National Endowment for the Arts.
Humphreys is a versatile researcher and teacher who applies historical, quantitative, philosophical, and sociological research methods to music education and arts business. He has had an extensive international career of lecturing, consulting, and presenting in 29 countries on six continents and more than half the North American states and provinces, including a dozen major/keynote speeches. He has advised 31 doctoral dissertations and two master's theses, several of which won university or national awards; and he has served as a dissertation and thesis advisor, committee member, and reviewer for institutions in Australia, Eastern and Western Europe, and North and South America. He has served as a visiting professor in several universities and countries, an endowed chair resident at the University of Alabama, an academic specialist for the U.S. Information Agency, and is currently an instructor and research advisor in the Native American Educational Leadership (Ed.D.) program in the ASU Graduate School of Education. He has been nominated for ASU Professor of the Year, ASU Distinguished Mentor of Women, and ASU College of Fine Arts Distinguished Teacher of the Year awards.
Humphreys has served as a university accreditation evaluator in Canada, and has held leadership positions in the College Music Society (Advisory Committee for Music Education), Fulbright Association Arizona Chapter (Board of Directors), Greek Society for Music Education (Scientific Advisor), International Society for Music Education (Financial Advisory Committee), NAfME (Hall of Fame Board, Executive Committees for Research and for Teacher Education, National Chair of History Special Research Interest Group, Chair of NAfME Centennial History Symposium), and other organizations. He has served on/chaired numerous personnel/grievance and curriculum committees, including several at the university level, and he is faculty advisor for the ASU Habitat for Humanity Campus Chapter.
Outside of academia Humphreys serves on the Board of Directors for the American Civil Liberties Union of Arizona. For over a decade he was a construction house leader and fundraiser for Habitat for Humanity (HFH). He participated in Jimmy & Rosalynn Carter blitz builds in the U.S. and a Global Village build in Northern Ireland, and he continues to serve on the Assembly and Board of Directors for HFH Macedonia, an award-winning affiliate he co-founded in 2002. In 2008 he was nominated for the ASU Woodside Sustained Community Service Annual Award.
A native of Tennessee, Humphreys holds a B.M. in music education from the University of Mississippi, an M.M. in clarinet performance from Florida State University, and a Ph.D. in music education from the University of Michigan. Before moving to ASU in 1987 he taught at West Virginia University and Huntingdon College (Montgomery, Alabama), in the Mississippi public schools, and served in the U.S. Army National Guard.
For more information, including a curriculum vitae, see www.public.asu.edu/~aajth.