2021 - Distinguished Service Award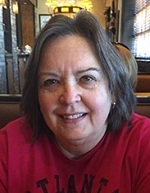 Patti Tolbert received the Doctor of Musical Arts degree in Music Education from the University of Georgia in 1997, the Master of Education in Music Education from Georgia Southern University in 1986, and the Bachelor of Music in Music Education from Berry College in 1970. 
Dr. Tolbert has seventeen years of experience as an instrumental music educator teaching in Polk, Glynn, McIntosh and Oconee County, Georgia schools and over twenty years teaching at the university level. Dr. Tolbert retired in 2019 as a professional percussionist  playing with orchestras such as the Savannah Philharmonic Orchestra, Hilton Head Symphony Orchestra, Macon Symphony Orchestra, Augusta Symphony Orchestra and the Augusta Opera among others.  She has performed with such artists as Ray Charles, Shirley Jones, Bernadette Peters, Benny Goodman. Honors include the Gene M. Simons Fellowship Award for musical and academic excellence given by the School of Music of the University of Georgia, Student Organization Advisor of the Year at Georgia College as the Sigma Alpha Iota women's music fraternity advisor and Georgia College's 2006-2007 Excellence in Teaching Award.  Dr. Tolbert served as Music Education Coordinator, CNAfME Advisor and Webmaster for the music department at Georgia College.  She also served as Chair of the College Division of the Georgia Music Educators Association, Webmaster for the NAfME History Special Research Interest Group, and served as its chair from 2014-2016.  Dr. Tolbert retired as Professor Emeritus from Georgia College & State University in 2014.